You will find Sea Dog Farm nestled in the rolling countryside of Vancouver Island. It's temperate climate and fertile soil make it optimal for growing sun-kissed, outdoor BC Cannabis. This old-school approach sees each batch of flower tended to precisely and carefully. No pesticides, herbicides or rodenticides are ever used on the property. Individual branches are harvested at their peak over several weeks, double washed, trimmed by hand, and hung to slow dry in small batches. The outdoor farming method of Sea Dog Farm produces a chemical free, carbon negative product which has a more complex cannabinoid profile and richer flavours when enjoyed.
---
Some of the products we helped bring to market: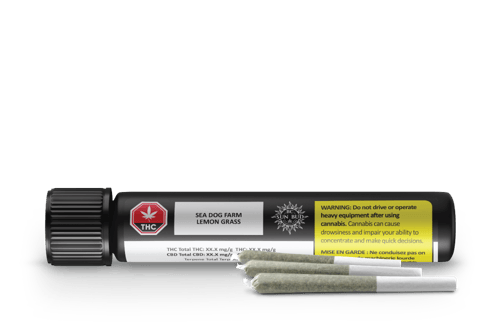 Lemon Grass, also known as 'Lemon Gas' is a indica leaning cultivar bred by Humboldt Seed Co and grown by Sea Dog Farms in BC's own Saanich Peninsula. Lemon Grass is an uplifting cultivar that combines Lemon Kush with Humboldt Gelato. Its nose gushes with a tart lemon flavour that is backed by gassy fuel and notes of vanilla. The lime green buds come drenched in trichomes that create a powerful experience.
---
---