Doug Gibson grew "the ultimate in legacy" cannabis for more than 50 years before Canada's legalization. Now, his son Deon Gibson takes the reins at Krazy Krystal, a legal Micro Cultivation facility in Pritchard, BC. The extensive knowledge and experience has been passed down and Deon has mastered his craft to be considered a Master Grower in his own right. Krazy Krystal consistently produces some of the highest yields of any Micro cultivator in Canada. As their name suggests, Krazy Krystal does not sacrifice quality for quantity. Their frosty flowers have been very well received by bud tenders and consumers alike.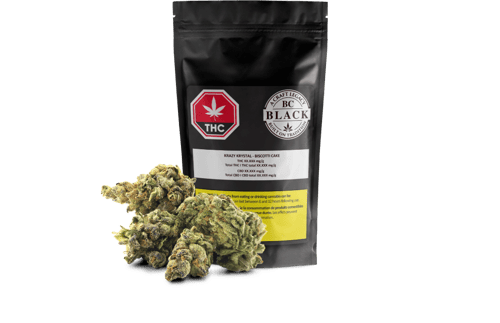 Biscotti Cake is a heavy Indica bred by Cannarado and grown by Krazy Krystal. This boutique micro is located in the Nicola Valley of BC. This cultivar is a cross of Biscotti Sundae and Wedding Cake and expresses itself with a nose of creamy vanilla, ending with sharp notes of fuel. This flower is stunningly coloured with basil and lilac foliage and bright tangerine pistils. The dense buds burst with flavour which will be sure to entice the most experienced connoisseurs.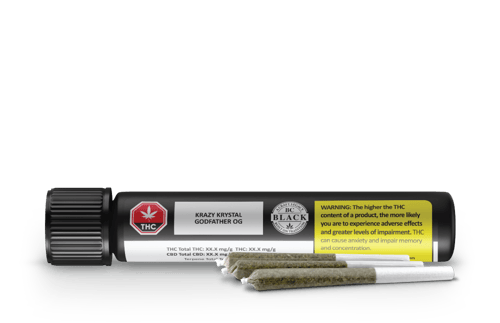 With lineage from XXX OG and Alpha OG, there's no wonder why Godfather OG is sometimes called "The Don of all OGs". Users have described the flavour as spiced, with a Kush taste and grape undertones. Godfather OG is a go-to for any cannabis connoisseur.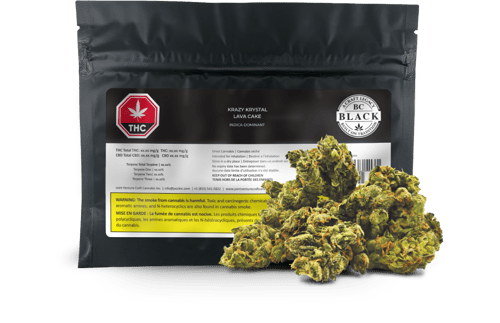 Cultivated by Krazy Krystal deep in BC's Shuswap region and bred by the famed Cannarado Genetics, Lava Cake is a cross between Thin Mint GSC and Grape Pie. This strain is celebrated for its deliciously sweet flavour profile that puts out exceptionally smooth cakey terpenes. Buds come in a dense, round bud structure bursting with delicate foxtailing, displaying rich purple and green hues.